MSSF Annual Fungus Fair – Microbia
When:
December 8, 2019 @ 1:30 pm – 2:30 pm
2019-12-08T13:30:00-08:00
2019-12-08T14:30:00-08:00
Where:
San Francisco County Fair Building, next to the Arboretum in Golden Gate Park
1199 9th Ave (at Lincoln)
San Francisco
CA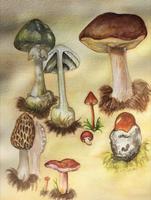 In this talk Eugenia explores how one can "see" the microscopic realm, a topic from her book, Microbia. Ecosystems are defined by the observer. Substitute a thimble of soil or an inch of human gut for Yellowstone Park, and you find that microbes function in their spaces according to the same rules of ecology as charismatic animals in the park. If we look at microbial life from this ecological point of view,  it is possible to anticipate how they will behave under difference circumstances, like whether you till a field or eat a Big Mac. It's seeing, without looking.